Cosplays
Edit
Background
Edit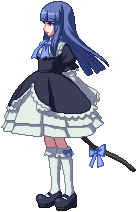 This character is from Umineko no Naku Koro ni.
Bernkastel is an extremely powerful witch that has lived a thousand years. It is said that she lives in a world where concepts like fate and possibility can be visualized. She can give birth to all kinds of miracles with her immense power but, in compensation for that, her heart ends up breaking a bit each time she uses them. In the first four arcs she serves as a lesser antagonist but later on during the core arcs she becomes the main antagonist of the series.[1]
References
Edit
Ad blocker interference detected!
Wikia is a free-to-use site that makes money from advertising. We have a modified experience for viewers using ad blockers

Wikia is not accessible if you've made further modifications. Remove the custom ad blocker rule(s) and the page will load as expected.