Cosplays
Edit
Background
Edit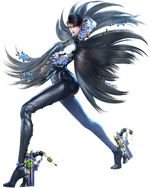 Bayonetta is the eponymous main character and protagonist of the Bayonetta series. She is a coquettish and mysterious Umbra Witch, who possesses a remarkable talent for the Bullet Arts and is the bearer of the Left Eye, that oversees the darkness.
After a 500 year slumber in a coffin submerged at the bottom of a lake, Bayonetta battles against the angelic hordes of Paradiso in order to discover the truth about her past and what she has forgotten during her sleep. Later, Bayonetta fights to rescue Jeanne, her clan sister who was taken to the realm of Inferno. With the help of Rodin, her demonic weaponsmith and proprietor of The Gates of Hell bar, she is hounded endlessly by hosts of angels along the way.[1]
References
Edit
Ad blocker interference detected!
Wikia is a free-to-use site that makes money from advertising. We have a modified experience for viewers using ad blockers

Wikia is not accessible if you've made further modifications. Remove the custom ad blocker rule(s) and the page will load as expected.