Cosplays
Edit
Cosplay reference kit
Edit
Default skin from Heroes of the Storm (Sonya)
Background
Edit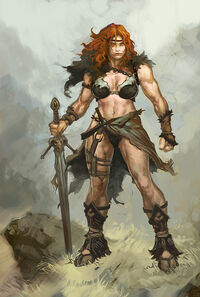 This character is from Diablo and Heroes of the Storm.
Barbarians are savage wanderers who never flinch from close-quarters combat. Mighty ground stomps, leaping attacks and dual-wielded slashes leave a barbarian's enemies dead in their boots and send any survivors fleeing for cover.
Thanks to their size and strength, barbarians can dominate a melee with nearly any combination of weapon and approach, though they tend towards massive and imposing weaponry. Barbarians are no strangers to the pains of battle, and often fare better in the midst of several opponents, taking and giving cuts, than when attempting to chase down single targets.
Ad blocker interference detected!
Wikia is a free-to-use site that makes money from advertising. We have a modified experience for viewers using ad blockers

Wikia is not accessible if you've made further modifications. Remove the custom ad blocker rule(s) and the page will load as expected.