Cosplays
Edit
Background
Edit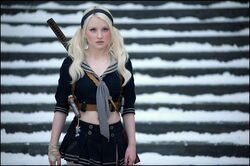 Babydoll is the protagonist of Sucker Punch.
Even in her darkest moments of despair, the idealistic Babydoll never loses her perspective on right and wrong. She may seem like a fragile and naive little schoolgirl, but her enemies underestimate her at their own peril. This prized pupil quickly master her Japenese short sword and 45 automatic to become incredibly powerful - perhaps even invincible. Babydoll exudes just the right combination of quiet intensity and transcedent vulnerability.[1]
References
Edit
Ad blocker interference detected!
Wikia is a free-to-use site that makes money from advertising. We have a modified experience for viewers using ad blockers

Wikia is not accessible if you've made further modifications. Remove the custom ad blocker rule(s) and the page will load as expected.