Cosplays
Edit
Background
Edit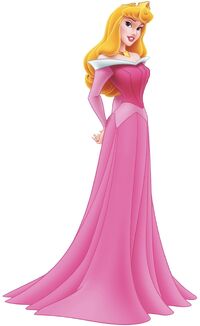 Princess Aurora is the protagonist of Disney's 1959 film Sleeping Beauty. She is the daughter of King Stefan and Queen Leah.
Aurora is a young woman, magically blessed with wavy waist-length golden hair like sunshine, violet eyes, a tall and slender figure, and lips that shame the red rose. Her complexion is fair and flawless, and unlike Snow White or Cinderella, her face is less rounded and more refined, giving her an appearance of maturity rather than youth despite being only sixteen.
As her princess self, she wears a pink or blue ball gown with a petal overskirt, a neatly-laced white petticoat, and long triangular sleeves.[1]
References
Edit
Ad blocker interference detected!
Wikia is a free-to-use site that makes money from advertising. We have a modified experience for viewers using ad blockers

Wikia is not accessible if you've made further modifications. Remove the custom ad blocker rule(s) and the page will load as expected.