Cosplays
Edit
Background
Edit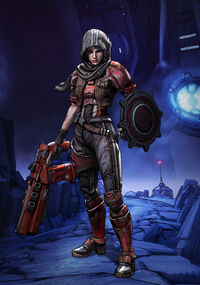 Athena used to be a Lance Assassin, even claiming to be the "top operative" of the Crimson Lance and a leader of an Omega Squad, but has since defected.
After helping the Vault Hunters take down Atlas, she traveled Pandora as a hired gun. Desperate for money, she took a job as a Vault Hunter for a low-level Hyperion programmer by the name of Jack.[1]
References
Edit
Ad blocker interference detected!
Wikia is a free-to-use site that makes money from advertising. We have a modified experience for viewers using ad blockers

Wikia is not accessible if you've made further modifications. Remove the custom ad blocker rule(s) and the page will load as expected.