Cosplays
Edit
Background
Edit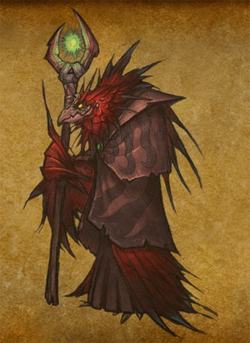 This creature is from the Warcraft franchise.
The arakkoa are an ancient race of bird-like humanoids native to Draenor. They have brightly feathered bodies in a veritable rainbow of colors, hooked beaks, clawed hands, taloned feet, and an erectile crest of feathers on their heads. They wear ragged cloaks about their bodies. Arakkoa appear to also have "sage" (with ornate shoulder and head ornaments) and "warrior" (with a metal helm and mail epaulets) classes. Hazzik mentions they have a caste system.
They have great magical power over the arcane, and are also as "smart as any gnome you ever met", according to Gremni Longbeard in the Hellfire Peninsula. Most are aggressive to both Alliance and Horde, although there are friendly members of the arakkoa to be found.
Arakkoa breed a species of owl called "Kaliri", which have valuable feathers. They also use several types of ravens and owls as guards.[1]
References
Edit
Ad blocker interference detected!
Wikia is a free-to-use site that makes money from advertising. We have a modified experience for viewers using ad blockers

Wikia is not accessible if you've made further modifications. Remove the custom ad blocker rule(s) and the page will load as expected.