Background
Edit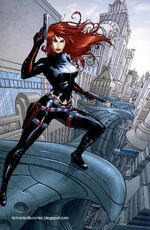 Anna Mercury is a leather-clad, red-headed hero who travels between parallel worlds, fighting to keep advanced weaponry from being used by more primitive worlds.
On Earth, in the modern day United Kingdom, Anna Mercury is actually Anna Louise Britton, an agent of the government, tasked with missions in the nine parallel worlds adjacent to our own. Anna's travels through the space between worlds charges her equipment that lets her defy gravity, move through solid objects, and perform other feats, though the energy is limited and must be monitored closely.[1]
References
Edit
External links
Edit

Anna Mercury on Wikipedia
Ad blocker interference detected!
Wikia is a free-to-use site that makes money from advertising. We have a modified experience for viewers using ad blockers

Wikia is not accessible if you've made further modifications. Remove the custom ad blocker rule(s) and the page will load as expected.