Cosplays
Edit
Background
Edit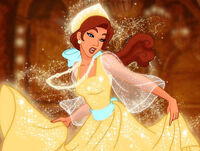 Grand Duchess Anastasia Nikolaevna Romanov is the main character & protagonist of 1997's Anastasia. She is based off of the real daughter of Tsar Nicholas II and his wife, Alexandra; the youngest sister of Grand Duchesses Olga, Tatiana and Maria; and the older sister of Tsarevich/Grand Duke Alexei. Anastasia was the only member of the Romanov family to survive the assassination.[1]
References
Edit
Ad blocker interference detected!
Wikia is a free-to-use site that makes money from advertising. We have a modified experience for viewers using ad blockers

Wikia is not accessible if you've made further modifications. Remove the custom ad blocker rule(s) and the page will load as expected.