Cosplays
Edit
Background
Edit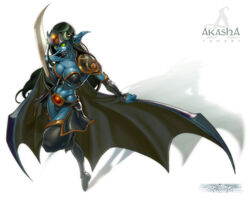 Akasha is one of the many souls claimed by the blade, Frostmourne. Raised to serve the Lich King as a Banshee, she desired to become pure substance once more. Driving deep into the forests, she was able to subdue and possess a succubus minion. Rightly bearing the title, Queen of Pain, she enjoys nothing more than inflicting massive damage on her foes, using both the poisonous strikes of her succubus host and the vicious howls retained from her Banshee nature. Akasha breaks her enemies' eardrums with torturing screams, some so loud they manifest into powerful waves that ripple across the lands, shattering all in their wake.[1]
References
Edit
Ad blocker interference detected!
Wikia is a free-to-use site that makes money from advertising. We have a modified experience for viewers using ad blockers

Wikia is not accessible if you've made further modifications. Remove the custom ad blocker rule(s) and the page will load as expected.