Cosplays
Edit
Background
Edit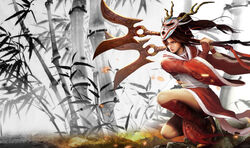 This character is from League of Legends.
A prodigious martial artist, Akali began training with her mother as soon as she could make a fist. Her mother's discipline was relentless and unforgiving, but predicated on the fundamental principle: "We do that which must be done." When the Kinkou inducted her into the order at the age of fourteen, she could slice a dangling chain with a chop of her hand. There was no question― she would succeed her mother as the Fist of Shadow. She has had to do much in this role which others might find morally questionable, but to her, it is in service of her mother's inviolable doctrine.[1]
References
Edit
Ad blocker interference detected!
Wikia is a free-to-use site that makes money from advertising. We have a modified experience for viewers using ad blockers

Wikia is not accessible if you've made further modifications. Remove the custom ad blocker rule(s) and the page will load as expected.