Cosplays
Edit
Background
Edit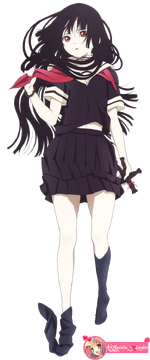 Ai Enma is the main protagonist of Hell Girl. As such, she makes a regular appearance in the series, although her appearance is smaller and less frequent in Jigoku Shoujo Mitsuganae.
Due to the nature of the duties which she is required to carry out, Ai can also be claimed to be the anti-heroine of the series. She also almost never exposes signs of being moralistic or idealistic, and occasionally opposes even those who are attempting to stop her from carrying out her job for a good cause.[1]
References
Edit
Ad blocker interference detected!
Wikia is a free-to-use site that makes money from advertising. We have a modified experience for viewers using ad blockers

Wikia is not accessible if you've made further modifications. Remove the custom ad blocker rule(s) and the page will load as expected.