Cosplays
Edit
Background
Edit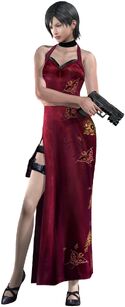 This character is from the Resident Evil franchise.
Ada Wong is the pseudonym of an otherwise-unnamed red-clad, secret agent of Chinese heritage. Initially a private agent, Ada was drawn into the intrigue and treachery that is the corporate world when she was recruited by a rival company to participate in their activities against their primary rival, Umbrella, and later moved to another.
A key word to describe Ada would be duplicitous. No one really knows what side she is on, and when asked by Helena if she was trustworthy, Leon admitted that it was "not an easy question to answer." Ada possesses a sarcastic sense of humor, and constantly retains a cool, calm, and collected demeanor, being rarely startled or shaken by anything.[1]
References
Edit