Cosplay reference kit
Edit
Background
Edit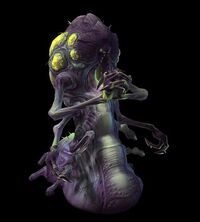 Abathur is a specialist hero from Heroes of the Storm, taken from the StarCraft franchise.
Abathur, the Evolution Master of Kerrigan's Swarm, works ceaselessly to improve the zerg from the genetic level up. His hate for chaos and imperfection almost rivals his hatred of pronouns.
Ad blocker interference detected!
Wikia is a free-to-use site that makes money from advertising. We have a modified experience for viewers using ad blockers

Wikia is not accessible if you've made further modifications. Remove the custom ad blocker rule(s) and the page will load as expected.